Ultra Wide Aspect Ratio LCDs
Litemax's range of ultra wide aspect ratio Spanpixel LCDs are designed to suit a wide range of retail applications which may have size/space restrictions such as retail shelves and above kiosks. Sizes start from as small as 6.2″ and are available up to 49.5″ with various ultra wide aspect ratios to fit within your available space. Options such as high brightness (1,000+nits) and integrated touchscreen are also available.
The Spanpixel SSD2755 monitor pictured has dimensions of 697.7(w)x357(h)mm.ssd227-ex
Please contact us for more information or sizes which would be most suited for your application.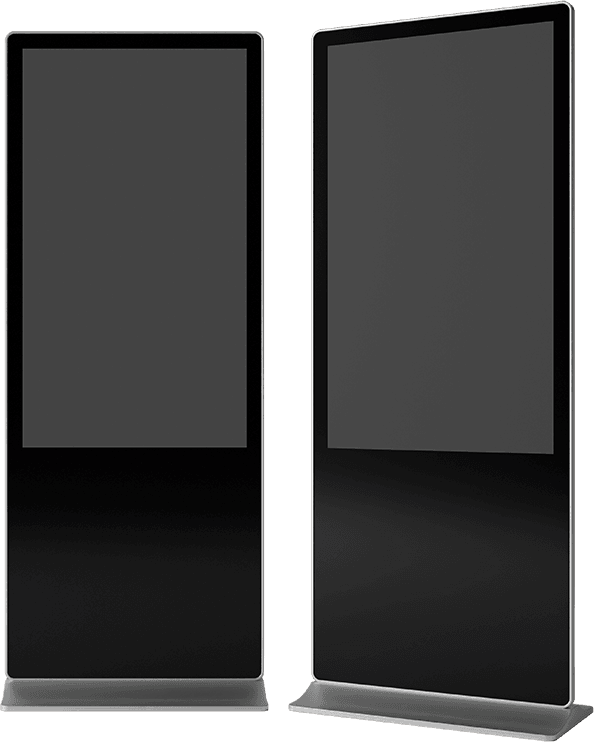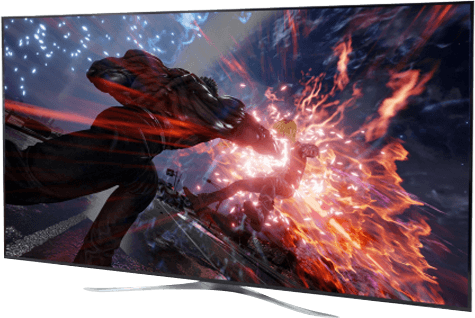 Ultra Slim Dual Sided LCD Kiosk
This dual sided 55" display features two LCDs which have been built into one slim module. With the TFT LCD module being 19.6mm thick and less than 30kgs, it's highly suited for use in building portrait back to back LCD kiosks for applications in public areas as well as shopfront windows. Both sides of the display are also 700nits making them suitable for viewing in higher ambient environments and can be driven by 2 independent signal inputs.
For integration into your own housing/kiosk, we can supply this dual sided display with a controller card kit and power supply taking care of all the electronics. There is also the option to replicate both sides of the display with a single signal input.
For more information on the Ultra Slim Dual Sided LCD Kiosk.
High Brightness LCD Monitors – Window Displays
Hyundai IT's range of high brightness Window LCD Displays are designed for indoor installations where direct sunlight / high ambient light presents an issue. Some sample installation sites include outside facing windows which get direct sunlight such as in Real Estate, Quick Service Restaurants (QSR) and Retail shopfronts. Through smart design and the standard included features, you have a reliable and purpose built sunlight readable solution. Read more..
Optical Bonding for Outdoor and Sunlight Readable applications.
Through Optical Bonding of LCDs we can improve the sunlight readability for standard TFT LCD displays in high ambient conditions.
This process involves sealing a top cover glass or touchscreen directly to the face of the display with a proprietary material to eliminate internal reflections (caused by airgaps) and significantly reduce ambient light reflections.
Besides visual enhancement, the optical bond also enhances the structural integrity of the LCD assembly, shock protection and elimination of fogging caused by trapped moisture in typical cover glass / air gap assemblies.
Optical bonding can be applied to a wide range of LCD sizes and does not involve any modification to the original LCD unlike other display enhancements.
In our most recent test, we compared a 2,500nit high brightness monitor behind a window against a 1,000nit openframe LCD optically bonded with AR glass in direct sunlight.
Through the elimination of internal and external reflections, optical bonding is the clear winner.
For more information on our optically bonded LCD and openframe solutions, please contact us.
Click here to download a more detailed presentation on Optical Bonding.
NAVPIXEL TM Marine Displays for a Weather Sealed solution.
The NAVPIXEL TM NPD series of marine grade displays offer a high performance sunlight viewable LCD built into a ruggedised aluminium case. They have been specially engineered to survive the most demanding working environments and include features such as wide operating temperatures and anti-shock and vibration resistance. The LCD sizes range from 8.4 to 24" with options for touchscreen support (single/multi) as well as an integrated PC to give you an all in one solution (NPS Panel PC series).
Other main features include:
IP65 Marine grade display
1000 and 1600nits Sunlight readable LCDs
Advanced Optical Bonding
AR Glass / Resistive and Projected Capacitive touchscreen options
9 – 36V DC input or external AC input plug pack
Anti-shock and vibration resistance
Please contact us for more information on the NAVPIXEL range of monitors and to discuss which model best suits your needs. Click here to download the latest catalogue.
Zero bezel touchscreens for modern display design.
For a modern touch to your new or existing display designs, contact us for more information on our zero-bezel touchscreen overlays. Besides the 'tablet' look and feel, having the bezel combined in the touchscreen allows for thinner and more simple display designs.
Currently our most popular industrial sizes are 12.1, 15.6 and 19″ and are available in both 5-wire resistive and projected capacitive technologies.
As in the photos, the standard zero bezel models come with black screen printing around the bezel. However this can also be customised depending on your requirements and can include options such as your custom logo and other colours.
For a complete plug and play touch solution, we can also supply the zero-bezel touchscreen overlays with a matching touch controller and USB/RS-232 cable.
High Brightness LCD modules for Outdoor and Sunlight Readable applications.
The AUO 55″ has been designed specifically for outdoor applications with features such as a high brightness of 2,500nits, QWP (Quarter Wave Plate) polariser and High Tni built in to the LCD. The QWP enables the LCD to be used in both portrait and landscape orientations with polarised sunglasses without a blackening effect. The High Tni (110oc) liquid crystal resists permanent dark patches on the LCD caused by heat when used in direct sunlight.
At Manuco, we can supply this LCD in various options depending on your installation/application requirements. In the most basic form, we can supply the 55″ TFT LCD module with a separate controller card kit (AD board, OSD kit and cables) giving you the flexibility to install the parts into your own custom housing. For a more integrated solution, we can supply the LCD in an openframe chassis ready for you to mount into your own kiosk/enclosures. More information on our openframe LCD displays can be found here.
For a finished ready to mount solution, we can also supply the display as a monitor. Sizes are available in 32″, 46″, 55″ and 75″ and more information can be found here.
From our photos, you can see that the LCD is highly viewable in direct sunlight even with window reflections. This unit has been installed in our office window for the past few months and stands out in all Australian weather conditions.