Hyundai IT's range of high brightness Outdoor LCD displays are designed for outdoor digital signage installations where direct sunlight and exposure to the elements presents an issue. Installation sites include Public Transportation PID (Passenger Information Displays) in Bus Shelters and Train Stations, Quick Service Restaurants (QSR), Public Spaces and Building Entrances, and other areas where waterproof screens are required.
Through smart design and the standard included features, you have a reliable, purpose built, weatherproof sunlight readable LCD solution. For more information on the new Q series with an All Glass Front / Zero Bezel design, please click here.
The LCD Outdoor Video Monitor displays are available as wall mount monitors and floor mount kiosks. The standard range of sizes are 32″, 46″, 55″, 65″, 75″ and 86″ with options for dual screens (back to back). All models feature wide 178° viewing angles making them suitable for portrait and landscape orientation (wall mount monitor). All models are available for outdoor waterproof screen installations.
A Quarter Wave Plate (QWP) polariser has also been incorporated into the LCD panel to prevent the blackout effect when viewers are wearing polarised glasses. This blackout effect is commonly seen with polarised glasses on standard type LCD monitors mounted in portrait orientation.
The result is a clear and bright image for all viewers in any outdoor environment. Hyundai's range can also be used in conjuncture with LCD Controllers such as the Digital View Controller Card.
Additional Options: Projected Capacitive Touchscreen
Dual Sided / Back to Back LCDs (integrated into one housing)
All weather capable display with IP (Ingress Protection) rating.
The IP65 (wall mount monitor) and IP66 (kiosk) ratings provide full protection against dust and water projection.
Built in intelligent heating and cooling, together with a smart automatic air circulation system, without the need for an air conditioner (reduced power consumption, noise pollution and maintenance costs).
Anti vandal glass (laminated tempered glass) for protection from extreme environmental conditions and impacts to the display.
High Contrast / High Brightness 2,000/2,500/3,000 nits LCD to give you a clear image, even in direct sunlight.
High TNi 110ºdeg Liquid Crystal to prevent blackouts typically caused by overheating. i.e direct sunlight.
AR coated anti vandal glass to reduce reflections, resulting in a clearer image.
Auto Brightness Sensor – adjusts the brightness of the monitor automatically according to the surrounding lighting conditions. This feature considerably reduces power consumption and increases the monitor's lifetime.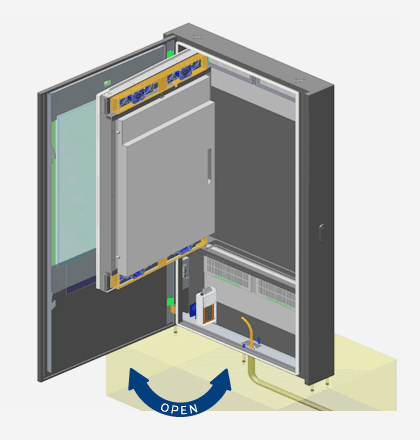 Front door access with lock for both wall mount monitor and kiosk models for easy operation and maintenance.
Allocated space and power cord for addition of a media player / mini PC.
External USB access from the rear for external control or updating content on your media player / mini PC.
IR remote control to easily change monitor settings.
Touchscreen functionality as an additional option.
Available sizes and models:
Q557MSG: 55″ with 8mm Tempered glass. (**)
Q557MSV: 55″ with Anti-vandal 8mm laminated glass. (**)
Q557MSI: 55″ with Projected Capacitive Touch. (**)
Q657MSG: 65″ with 8mm Tempered glass.
Q657MSV: 65″ with Anti-vandal 8mm laminated glass.
Q757MSG: 75″ with 8mm  Tempered glass.
Q757MSV: 75″ with Anti-vandal 8mm laminated glass.
Q867MSG: 86″ with 8mm Tempered glass.
(**) available with optional pole mount. Coming soon for other models
Waterproof Screens
The use of truly waterproof screens in outdoor or semi outdoor areas is essential. If you are going to invest in digital signage that will be exposed to the elements, we do not advise installing a regular screen within a waterproof mounting. This can be a very expensive mistake if the housing fails. Our waterproof LCD screens are built for the outdoors and are what we will always recommend clients to install.
If you need more information on our outdoor signage screens or any other products, simply contact us today.