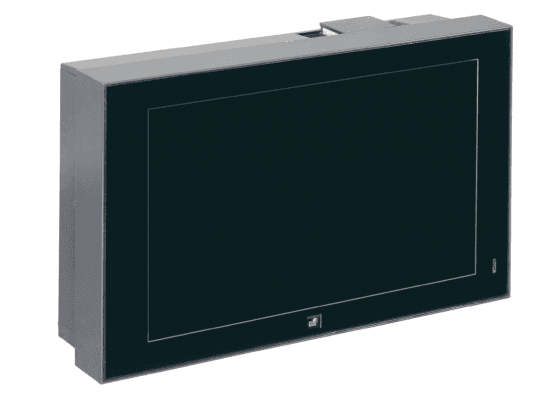 Full outdoor display with a weatherproof IP65 rating, anti-vandal glass and high brightness/optical bonding for sunlight readability. The monitor is designed for 24/7 operation and includes a built in diagnostic system to monitor the operational performance of the display.
Digital signage kiosk available with a single or dual sided display. Available as a monitor with input connectors (VGA, HDMI..). There is also an option to include a built in Android/Windows PC with WIFI and storage. Brightness of 700nits making it suitable for installation in high ambient environments.
All of your branding can be added to this integrated digital signage solution to make its installation seamless wit the feel of your premises.
This is an example of a digital signage kiosk with built in touch functionality (IR). It also has an Android media player for ease of operation.
There is a wide variety of integrated touch screens kiosks that we can design and create for you. A branded touchscreen kiosk may be just what you need to make things like navigation, information gathering and prompting easier for you and your clients.
For information about anything to do with high quality digital signage Australia wide, contact us today.